Canyon Ridge® Carriage House (5-Layer)
Insulated Carriage House Garage Doors
Add character and charm to your home with Clopay's Canyon Ridge® Carriage House (5-Layer) garage door. Enjoy the authentic look of swing-out coach house doors paired with the modern-day functionality of upward operation. Not only beautiful, these doors provide quiet operation and energy efficiency for years to come.
Overview
Overview
Clopay Canyon Ridge® Carriage House (5-Layer) garage doors take inspiration from the coach house designs of yesteryear and bring them to life with today's technology. These doors are constructed with steel for strength and durability, and molded composite materials for beauty and realism. The overlay material is molded from real wood boards to reproduce the unique grain patterns and textures of those species.
These low maintenance, faux wood doors are constructed with moisture-resistant, wood grain composite overlays and can be factory stained or painted in 7 colors, including black or slate. You can even combine the finishes for a truly unique look. These doors feature:
5-layer construction: steel + insulation + steel + composite cladding + composite overlay.
Faux wood-look composite cladding and overlay materials are molded from actual wood pieces to reproduce the natural texture and intricate grain patterns of the species they emulate.
Colors include: Walnut, Dark, Medium, Slate, Black, White and Primed. (Additional Options)
2" Intellicore® polyurethane insulation with a thermal break. R-Value of 20.4.
WINDCODE® door reinforcement product available for high wind load applications. (More Details)
Environmental Assurance
Clopay doors are compliant with environmental laws and regulations. Clopay doors do not contain HFCs. All Clopay doors are compliant with:
California SB 1013
Washington HB 1112 – Hydrofluorocarbon Greenhouse Gas Emissions
Canadian regulations amending the ozone-depleting substances and halocarbon alternatives regulations
New Jersey A-5583/S-3919 – Greenhouse Gas Bill
Learn More In Our Buying Guide
QuickDraw Tool
Design Options
Door Designs
SERIES 1
DESIGN 01
DESIGN 11
DESIGN 12
DESIGN 13
SERIES 2
DESIGN 21
DESIGN 22
DESIGN 23
SERIES 3
DESIGN 31
DESIGN 32
DESIGN 33
DESIGN 34
DESIGN 35
DESIGN 36
DESIGN 37
DESIGN 38
For more information regarding construction options per panel style, click here
Top Sections
SERIES 1 & 2 SOLID
TOP11
TOP12
TOP13
ARCH1
SERIES 1 & 2 WINDOW DESIGNS
REC11
REC13
REC14
SQ23
SQ24
ARCH1
ARCH3
ARCH4
ARCH13
ARCH14
DOUBLE TOP SECTIONS
ARC1A - SOLID (Double Door)
ARC1A - WINDOW (Double Door)
ARC3A - WINDOWS (Double Door)
ARC4A - WINDOWS (Double Door)
ARC13A - WINDOWS (DOUBLE DOOR)
ARC14A - WINDOWS (DOUBLE DOOR)
Specialty Glass Options
SEEDED
RAIN
FROSTED
OBSCURE
Material Options
COMPOSITE OVERLAY MATERIALS
Clear Cypress
Mahogany
COMPOSITE CLADDING MATERIALS
Clear Cypress
Mahogany
Pecky Cypress
Hardware Designs
HANDLES
SPADE LIFT HANDLES
(included)
SPEAR LIFT HANDLES
COLONIAL LIFT HANDLES
DECORATIVE LIFT HANDLES
RING DOOR KNOCKER
ESCUTCHEON PLATE(S)
TWISTED "L" HANDLES
HINGES
SPADE STRAP HINGE
SPEAR STRAP HINGE
COLONIAL STRAP HINGE
PLATES
SPADE STEP PLATE
SPEAR STEP PLATE
COLONIAL STEP PLATE
Construction
Clopay Canyon Ridge® Carriage House (5-Layer) garage doors are built five layers strong. The faux wood-look composite overlay and cladding surface are low maintenance, durable and won't rot, warp, or crack.
Warmer. Quieter. Stronger.
Garage doors featuring Intellicore
®
insulation technology represent the ultimate smart choice for homeowners. Clopay's Intellicore
®
is a proprietary polyurethane foam that is injected into a garage door, expanding to fill the entire structure. The result is a door with incredible strength, energy efficiency, and durability. (
Click for details
)
Door sample shown in Walnut Finish.
Replaceable vinyl bottom weather seal in rust free aluminum retainer helps protect against the elements.
High performance nylon ball bearing rollers help ensure smooth, long-lasting, quiet operation.
Heavy-duty 14 gauge steel hinges and brackets for smooth and worry-free operation.
Window grilles are removable for easy cleaning.
Safe-T-Bracket® - Prevents serious injury that could occur if the bottom bracket were removed with the garage door closed and under tension.
Product complies with 2015 IECC air infiltration requirement of 0.40 cfm/ft2 or less (IECC, Section C402.5.2)
Color Options
Color Options
MEDIUM FINISH
DARK FINISH
WALNUT FINISH
SLATE FINISH
BLACK FINISH*
WHITE FINISH*
PRIMED(NO FINISH)
BRONZE*
CHARCOAL*
*Available on select models. For more information regarding color availability, click here.

Two-tone option available. One color for the base layer (steel) and one color for the top layer (composite overlay).
Custom color available through ColorBlast® program.
Brochure
Installation & Care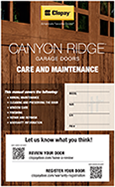 Canyon Ridge Collection Care and Maintenance
Insulated Steel Installation Instructions and Maintenance
1 Year Installation Warranty