Reserve® Wood Modern
Modern Wood Garage Doors
Clean lines and simple forms let the beauty of natural wood stand out. Clopay's versatile Modern Series lets you mix materials, shape and tone to create a stunning contemporary garage door that blends beautifully with other woods and materials on your exterior.
Overview
Overview
Reserve® Wood Modern contemporary garage doors provides the perfect blend of handcrafted dependability and clean modern design. This versatile series allows you to choose from a variety of materials and natural wood tones, creating aluminum and wood garage door configurations that beautifully complement your home.
Construction Overview
Durable 4-layer wood garage door construction with polystyrene insulation. This garage door has a 5.9 R-value*.
Heavy-duty hinges, rollers and track provide smooth, quiet, long-lasting operation.
Vinyl weatherseal with optional aluminum weatherseal retainer helps seal out the elements and protect the bottom of the door.
Design Overview
Reserve® Wood Modern doors are built with a sleek contemporary style and convenient upward-acting operation.
Offset Window models come standard with clear tempered glass. Other glass options include frosted and obscure.
Accent Strip models feature decorative flush aluminum accent strips to provide a beautiful contrast.
All doors can be factory primed, painted White or factory stained. Custom stain and paint colors also available.
Doors come standard with spade lift handles and step plate. Additional decorative hardware options are available.
*Calculated door section R-value is in accordance with DASMA TDS-163.
Environmental Assurance
Clopay doors are compliant with environmental laws and regulations. Clopay doors do not contain HFCs. All Clopay doors are compliant with:
California SB 1013
Washington HB 1112 – Hydrofluorocarbon Greenhouse Gas Emissions
Canadian regulations amending the ozone-depleting substances and halocarbon alternatives regulations
New Jersey A-5583/S-3919 – Greenhouse Gas Bill
LIFTMASTER® ELITE SERIES™
Clopay recommends the LiftMaster
®
Elite Series opener for these garage doors.
Design Options
Door Designs
OFFSET WINDOW
DESIGN 1*
DESIGN 2
DESIGN 3*
DESIGN 4
DESIGN 5*
DESIGN 6*
DESIGN 7
ACCENT STRIP
ACCENT STRIP NO SPLICE**
ACCENT STRIP SPLICED
HORIZONTAL CLADDING
HORIZONTAL CLADDING NO SPLICE**
HORIZONTAL CLADDING SPLICED
*Design is available right hand and left hand.
**Unspliced models are only available up to 10' wide.
Specialty Glass Options
FROSTED
OBSCURE
Wood Options
LIGHT CEDAR
DARK CEDAR
FIR
MIXED CEDAR
MERANTI
REDWOOD
Construction
Handcrafted 4-layer wood construction with polystyrene insulation provides a durable and energy efficient door.
R-value 5.9*

Heavy-duty hinges, rollers and track provide smooth, quiet, long-lasting operation.







*Calculated door section R-value is in accordance with DASMA TDS-163.
Color Options
Color Options
Colors
BUTTERNUT
CEDAR
DARK OAK
MAHOGANY
NATURAL
NATURAL OAK
TEAK
DARK OAK EBONY WASH
EBONY WASH
Clopay stain colors show on Cedar wood. Note: Color may vary from on screen. Custom colors are available.
Brochure
Installation & Care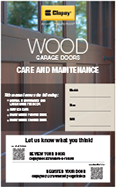 Wood Garage Doors Care and Maintenance Manual
Handle Installation for Modern Series
Wood Species, Maintenance, and Finishing
Wood Installation Instructions
1 Year Installation Warranty